Thursday, 14th May 2020 - after Lunch
»Workshop on Data Science in Education« (Univ.Ass. Dipl.-Ing. Dr.techn. Alexandra Posekany, TU Wien, AT)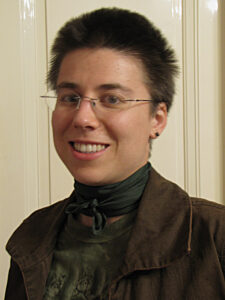 Alexandra Posekany received a Master's and PhD degree in applied mathematics and currently works as Assistant Professor at the Research Unit of Computational Statistics of the University of Technology Vienna.
For more than a decade she worked in different applied fields at various universities ranging from Bioinformatics to Health Economics, including medical statistics, parallel computing and didactics research. The focus of some research lies in probabilistic Bayesian modelling of applied problems.
In addition to researching and teaching applied statistics and Data Science at universities and universities of applied science, she is employed as a teacher for applied mathematics and Data Science in Vienna's largest vocational highschool and created the first Data Science curriculum on this educational level.

Abstract of the Workshop:
Data Science has become the trend discipline of the 2010's even changing Hal Varian's famous quote "I keep saying the sexy job in the next ten years will be statisticians." to "Data Scientist is the sexiest job of the 21st century". Universities, colleges, universities of applied sciences and schools for other forms of education have long failed to grasp the importance of not just implementing research groups in this prospering field, but also installing proper curricula for studying "Data Science" which is based on various underlying fields and thus requires more than simply mathematical and statistical or only programming oriented education.
The goal of this workshop is to exchange experiences of teaching Data Science either as a subject in STEM subject studies or as a whole curriculum of its own. The participated experiences reach from teaching on high school level to Master's degree curricula at university, stretching from single subjects added to other fields study to full-scaled curricula for studying data science as a Master study program.
Participants are greatly encouraged to share their experiences, feedback and thoughts on improvement of how to teach Data Science properly in order to help the field as a whole to prosper and advanced - not only in the academic field, but also in industry where Data Scientists are much craved for experts.